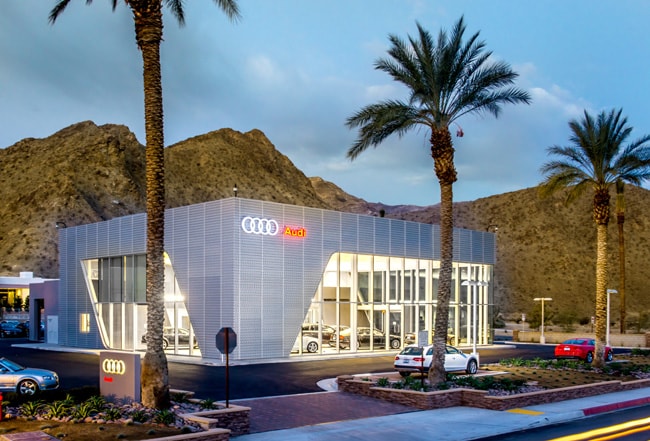 Acerca de Audi Rancho Mirage 
Bienvenido a Audi Rancho Mirage! Estamos orgullosos de ser miembro de la familia indiGO Auto Group y de poder servir en las áreas de Palm Springs, Ontario, Riverside y Murrieta, CA. Ya sea que esté usted de visita para explorar nuestros nuevos vehiculos Audi, autos Audi de segunda mano o usados, o tambien de tener la necesidad de que su vehiculo actual sea reparado en nuestro centro de servicio de Audi, los esperamos con interés para trabajar con usted. En Audi Rancho Mirage, trabajamos incansablemente para superar las expectativas de nuestros clientes y asi poder garantizar que cada uno de nuestros ellos salga de nuestro centro sintiéndose satisfecho. ¡Ansiamos trabajar con usted en nuestro concesionario de Audi!
Nuestro departamento de ventas tiene un propósito: superar sus expectativas desde la prueba de manejo hasta la entrega del vehiculo. Nuestro equipo de ventas profesional está comprometido con un enfoque de integridad y sin presiones para su unica y exelente experiencia de ser dueño o propietario de nuestros vehiculos. Nuestro objetivo es que usted sienta que el vehículo que conduce es el perfecto y adecuado para usted. Nuestro inventario en línea de vehículos nuevos y usados es actualizado diariamente. Lo invitamos a programar una prueba de manejo o visitar nuestra sala de exhibición para experimentar todo lo que tenemos para ofrecer.
En Audi Rancho Mirage ofrecemos lo siguiente:
Técnicos formados y certificados de fábrica.

Transporte alternativo

Piezas originales de Audi

Lavado de autos gratuito y complementario

Nuestra sala de espera tiene muchas de las comodidades comunes que usted esperaría, como refrigerios de cortesía, WIFI, TV y materiales de lectura. Si prefiere no esperar, nos complace ofrecerle un servicio de transporte alternativo.

Siéntase libre de navegar por nuestra tienda para obtener los mejores artículos de estilo de vida de Audi o excelentes ideas para regalos.
¡Visite nuestra tienda de Audi hoy!
Hours
Monday

9:00am-5:00pm

Tuesday

9:00am-5:00pm

Wednesday

9:00am-5:00pm

Thursday

9:00am-5:00pm

Friday

9:00am-5:00pm

Saturday

9:00am-5:00pm

Sunday

Closed
Click on one of the people below to find out more information.